WAR CAPTIVE IN FRANCE SINCE 1984 !
The Isareli invasion of Lebanon (1982), with the help of NATO forces, caused 25000 civilian deaths and 45000 injured in three months...
Georges Abdallah was one of the barehanded resistants who fought for the liberation of Lebanon and Palestine.
He got arrested in France 1984, accused in 1986 (two years later !) of chasing and assassinating military agents involved in the invasion (Israeli and Americans agents) .
He has finished his minimum sentence since 1999; yet he is in jail.
An international campaign was launched in 2009 from Beirut calling for his immediate release and compensation for this illegal detention.
The campaign exists in almost every city in France, Lebanon and other countries. Freedom for comrade Georges A.
Solidarity actions must be taken now.
contact : Liberonsgeorges.over-blog.com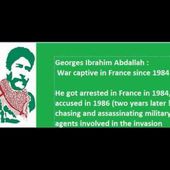 War captive in France since 1984! Did they forget him in prison ?
WAR CAPTIVE IN FRANCE SINCE 1984 ! The Isareli invasion of Lebanon (1982), with the help of NATO forces, caused 25000 civilian deaths and 45000 injured in three months... Georges Abdallah was one of